"
Flat Belly Diet:

Rebalance Your Gut Bacteria and Experience Safe and Healthy Weight Loss."
What is the
Flat Belly Diet?
There are over 100 trillion bacteria that live in your digestive tract —and recent scientific research has revealed that these bacteria are involved in your ability to both gain and lose weight. When these microbes are out of balance, chronic health conditions can occur, including irritable bowel syndrome, fatigue, and obesity.
This is why three diet and fitness experts - John Barban, Brad Pilon, and Kyle Leon have joined forces in order to bring you an insightful perspective on the little-known connection between having an imbalance of good vs bad bacteria in your gut, and your potential for weight gain and weight loss.
Drawing upon the latest scientific research, John, Brad, and Kyle have designed a solution that takes your individual traits into consideration from body type, age, weight, height, gender, and even included your lifestyle into a weight loss regimen that marries the right diet and exercise plan to you as an individual. The goal is to combine a cycled diet protocol plus a custom exercise plan to help reset your 'gut flora' to a healthier state which can support achieving your desired weight loss.
Flat Belly Diet is a 3 phase system designed to rebalance your gut bacteria and promote weight loss.
Phase 1 – 30 Day Gut Reset
The first phase of the program is designed to move your gut microflora to an 80-20 percentage of probiotic bacteria to pathogenic bacteria. The nutrition and exercise program work synergistically to help bring your gut flora into this favorable balance which can promote weight loss. The customized nutrition guidelines and software give you specific food and macronutrient recommendations, as well as daily and weekly calorie goals to achieve both weight loss and a rebalancing of your gut bacteria.
Phase 2 – Day 31-60 Food Reintroduction
Phase 2 is designed to reintroduce many (but not all) of the foods that were restricted in phase 1. This phase further supports a healthy gut bacterial balance and continues the process of weight loss with a wider variety of food starting you down the path of a long term nutrition strategy. The exercise program also progresses to match the nutrition program and the changes you should expect to see in your body from phase 1.
Phase 3 – Day 61-90 Complete Reintroduction

Phase 3 is designed to reintroduce maximum food variety that can maintain a healthier gut flora while laying the foundation for long term sensible nutrition habits. The exercise program recommendations change once again to match the further progress you should expect to see after phase 2. The goal of phase 3 is to guide you to sustainable eating habits that allow for most of your favorite foods to be part of your nutrition plan long term and also keep your gut bacteria in a healthy balance. The exercise recommendations are also designed to build from phase 2 and foster a long-term habit of regular exercise.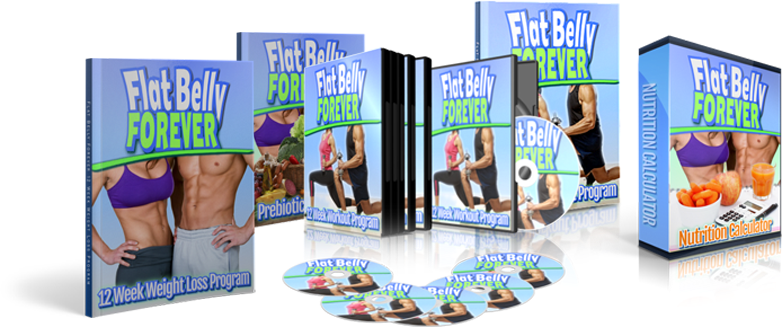 FAQ
What is the The Flat Belly Diet?
The Flat Belly Diet is a weight loss program that includes a cycled exercise program plus a custom meal plan intended to help reset your 'gut flora' to a healthier state which can help move you towards your desired weight loss. When this system is combined with a healthy lifestyle, men and women can experience natural and safe weight loss. Results may vary. 
How does it work?
The Flat Belly Diet uses a 3 phase custom approach to rebalancing your gut bacteria which is described in detail above. Calories, macronutrients specific food choices, and a workout program are all provided in the Flat Belly Diet Program, and are all designed to help rebalance your gut bacteria and help you lose weight.
Am I allowed to drink coffee while following Flat Belly Diet?
Yes, over the last couple of decades we have really begun to understand the health benefits of moderate coffee drinking. And in 2009 a newly published study showed coffee produced an increase in the metabolic activity and/or numbers of Bifidobacterium, which are beneficial bacteria in your gut. So Coffee may be used while following Flat Belly Diet.
How important is exercise with Flat Belly Diet for fat loss?
Although you don't need to exercise to lose weight it is highly beneficial for all of the following reasons. First it can help with burning more calories and thus burning more body fat. Second it can help with things like insulin sensitivity, your mood and your overall health. It can also help with food and hunger cravings and shifting you to preferentially burning fat instead of sugar. You don't need to be an Olympic athlete to benefit from exercise; even as little as 30 minutes of walking per day can produce measurable benefits. The bottom line is the more you move the healthier you will be and faster you can lose weight.
What if it doesn't work for me?
If you're not happy with the product for any reason whatsoever send us an email within 60 days of your purchase and you'll be issued a prompt 100% refund, no questions asked.
If you don't experience a life changing, enjoyable fat loss journey unlike anything you've ever tried before simply send me an email anytime in the next 60 days and I will promptly issue you a 100% refund.
I will completely protect you with an ironclad 100% money back guarantee to make this decision extremely easy for you.